Consumer Duty
Consumer Duty is a new Consumer Principle being introduced by the Financial Conduct Authority (FCA), which sets out expectations for firms (including lenders, networks and brokers) to deliver a higher standard of customer care and protection. This increased standard of care will enable consumers to make more effective financial decisions.
What is Consumer Duty?
Consumer Duty is part of the FCA's strategy to make financial services work better for customers. It sets out clear, high standards of consumer protection, and requires firms to put their consumers' needs first.
Consumer Duty covers products and services for both existing and new retail customers.
FCA's new Principle
The FCA are introducing a new Consumer Principle: Principle '12', which will require firms (including both lenders and brokers) to 'act to deliver good outcomes for retail customers'.
Although Principle 12 does not cover Buy to Let mortgages, Principle 6 (treating customers fairly) will still apply.
Principle 12 is supported by three common themes relating to a firm's behaviour:
There're also four outcomes; a set of rules and guidance relating to a firm's conduct in:

A firm must act in good faith towards retail customers
A firm must avoid foreseeable harm to retail customers
A firm must enable and support retail customers to pursue their financial objectives.

The governance of products and services
The price and value of products and services provided to consumers
Consumer understanding
Consumer support.
These themes and outcomes require firms to consider the needs, characteristics and objectives of their customers, including those with vulnerabilities, at every stage of their journey.
As well as ensuring firms deliver good customer outcomes, they must also understand and evidence whether those outcomes are being met.  
Key Dates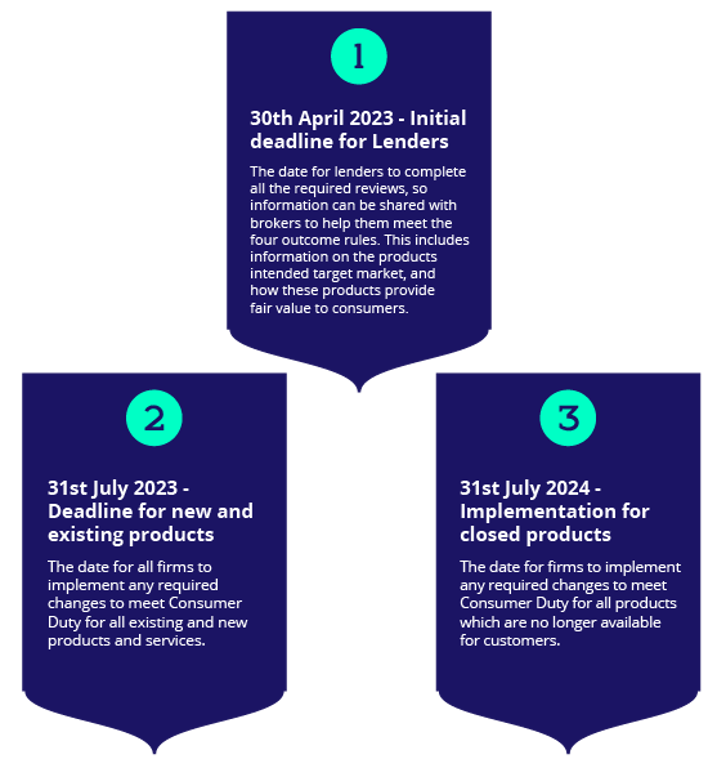 Click here if you are unable to view this image.
More information
Check this page regularly for updates over the next six months. 
For more information on Consumer Duty, please visit the FCA's website.