Registering to Submit Business
Register to submit business with ease using our online application system.
Register Now
Who can register to submit business?
If your firm is an Appointed Representative of a Network or Principal firm that you know is already able to submit business with us, you can register to use our online application system right away.
For Directly Authorised firms who have completed our onboarding process, you're now able to register for our online application system and submit business.

Find out if your firm is on our panel
If you're unsure whether your Principal firm or Directly Authorised firm is already on our intermediary panel, you can contact us to find out.
If you're a Directly Authorised or Principal firm that has not previously registered with us, you'll need to go through our onboarding process before you're able to register to submit business.
Networks on our Intermediary Panel

*

Connect
PRIMIS
Connells
Quilter
Countrywide
Sesame
Homeloan Partnership
St James's Place Wealth
Mortgage Advice Bureau
Stonebridge
Mortgage Intelligence
The Right Mortgage Network
Openwork
TMG
*This is not an exhaustive list and shows only a selection of Networks that are already on our panel.
Onboarding with us
To begin the onboarding process and join our intermediary panel, you'll need to be nominated by a Bank of Ireland BDM or your Mortgage Club. To find out more about this process, get in touch.
The Onboarding Process: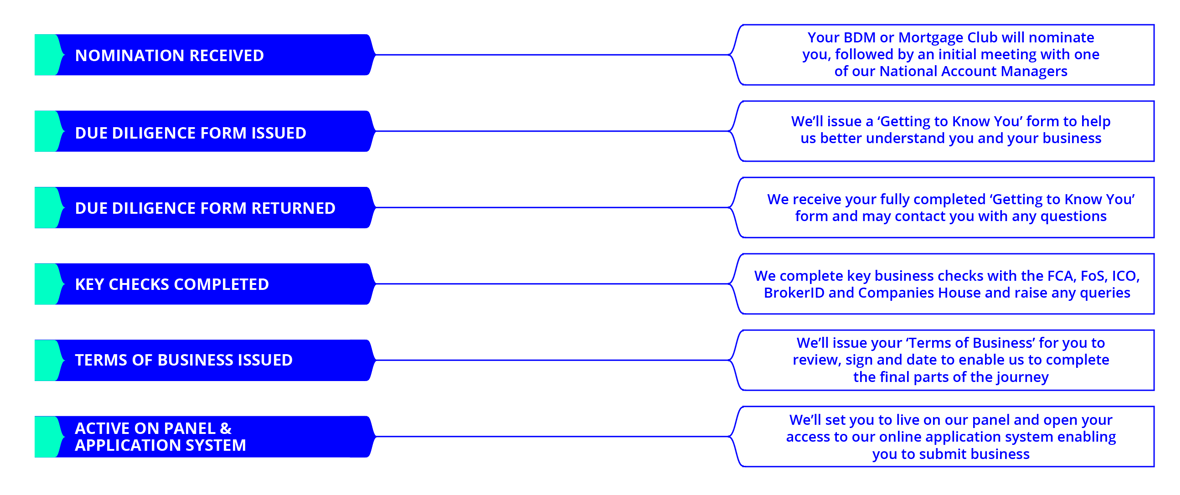 Click here if you're unable to view this image.
If your firm or any advisers do not submit any business for 12 months or more, they'll automatically be removed from our intermediary panel. If you wish to submit business after this, you'll need to follow our onboarding process to register again.